you know that kids story Flat Stanley*? he's all flat and thus he can travel the world in envelopes and carry on luggage and such? well, I'm flat jamie. traveling by laptop world wide. I've been to places I've never been!
I went to hong kong today...and actually tomorrow too already. That whole time change thing puts me there tomorrow around 11 in the morning....which technically already happened...I'm a time traveler people! keep up! I even took a picture of flat jamie with burke overlooking the harbor and the mt's. of hong kong. i'll post it in this blog...proof! When you look at it...you will experience something not a lot of people get...a glimpse into the future!
I also went to st. louis and got to spend some time with my nephew and niece. They clapped for me after I sang the itsy bitsy spider and did the hand motions. I'm practically a rock star. I also distracted their mom so much with all my stories that she was horrified to find the two little darlings had pulled eggs out of the fridge and broke them like humpty dumpty all over the carpet in the living room. I'm such a naughty aunty...I couldn't stop laughing. Miss Evie was so cute sticking her finger in the mess, poking at it like it was some kind of mystery to be solved.
Now that there is something like 12" of snow on the ground the only way I'm getting anywhere interesting is as flat jamie. Winter has come in with fury. She will not be denied! Hong Kong looked so warm. So did St. Louis. Oh well, it's warm in my house too. And it will be even warmer once I pull out my electric blanket!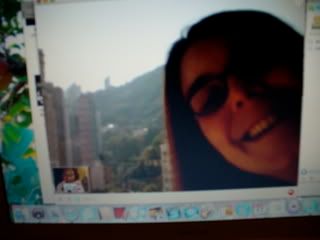 (Im really really tiny and flat in the bottom corner...isn't burke cute?)
* Stanley Lambchop is flattened when a bulletin board falls on him. He survives and makes the best of his altered state, and soon he is sliding into rooms through the opening at the bottom of closed doors and being kind to his younger brother by playing as a kite for him. Stanley even helps catch some art museum sneak thieves by posing as a painting on the wall! But one special advantage is that Flat Stanley can now visit his friends by being mailed in an envelope.