Well now that we have done it 2 yrs in a row it is an official family tradition :)
Here is a peek at a picture from last year and here's a
link to the blog
I posted. Oh I love good memories!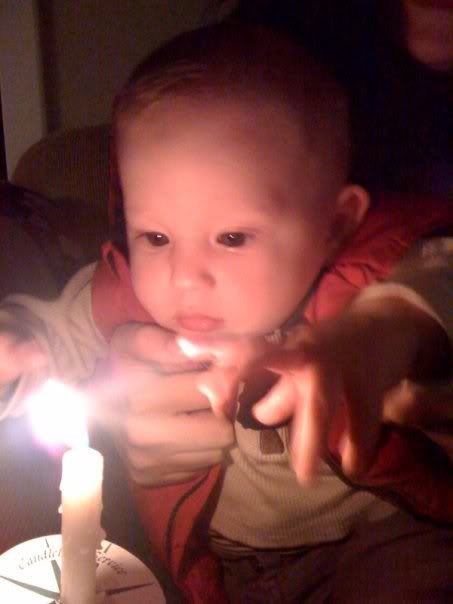 2009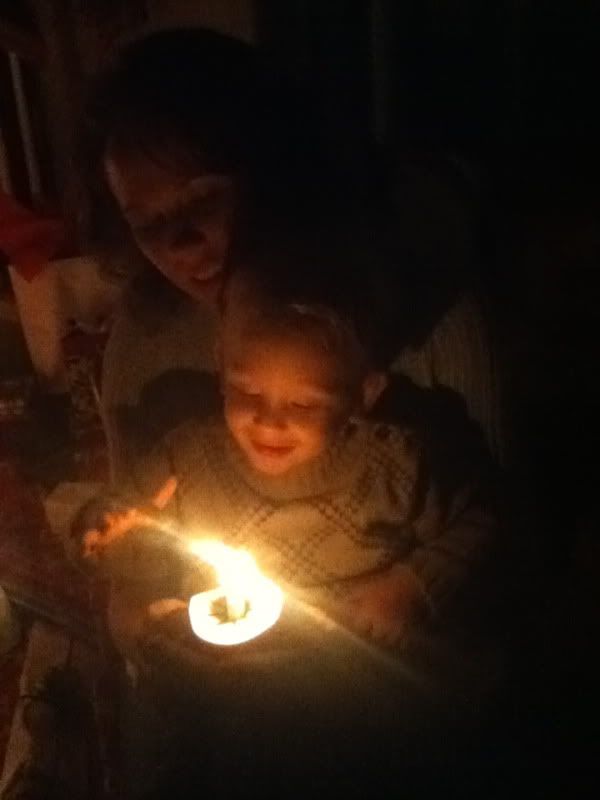 2010
This year's recap of the night is a little different...my how things change in a year!
I wasn't even sure we would be able to attend seeing as how Judah wouldn't take a nap...but
I decided I would go and if I ended up in the lobby then so be it. Good thing I had that attitude
cause guess where we ended up? lol oh well, it was still wonderful. Brandy is here with us so
she was helping me a ton which was great, Lance is off flying again this year.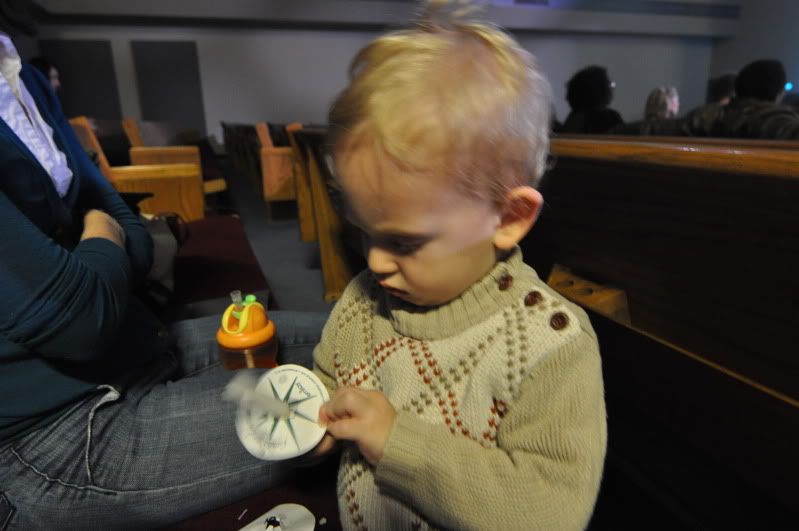 We started out in the service, Judah really loved the music and the lights. I held him while we sang carols and he kept looking at me, looking at my mouth, looking at the stage with the musicians and you could see him figuring out that I was singing along. Not sure what he thought of it, but it was cute to see his mind working.
When he sees pretty lights he calls them "Wow!" because every time we see them that is what I say, so he thinks that is what they are called. ha! So he kept saying "Wow! Wow! Wow!" through the whole service. It was cute when the music was playing and kind of loud when it was quiet.
They had a kids story that was read (Judah is still a little to young to head to the front of the church with all the other kids...especially since he hadn't taken a nap...) and it had pictures they projected onto the overhead screens...it was the nativity story and there was a picture of baby Jesus they kept showing and Judah would say at the top of his lungs "babeeeeee!!!!!" Which was pretty sweet.
Judah also liked playing with the candles, pulling them out of the paper hand protectors and putting them back in, over and over and over. Who knew so much fun was to be had :) But after about 10 minutes it lost its mesmerizing qualities and he started fussing at me and trying to escape.
So needless to say we ended up in the lobby at that point. And since it was decorated so lovely, I grabbed my camera as well as the kid :)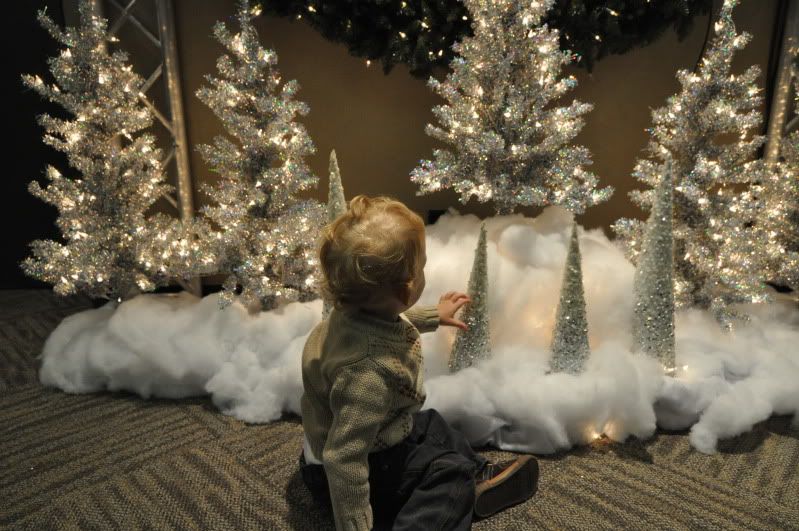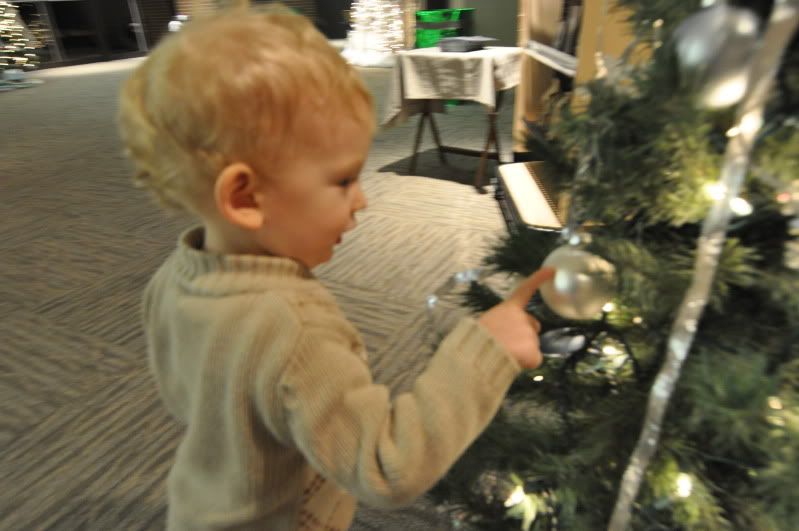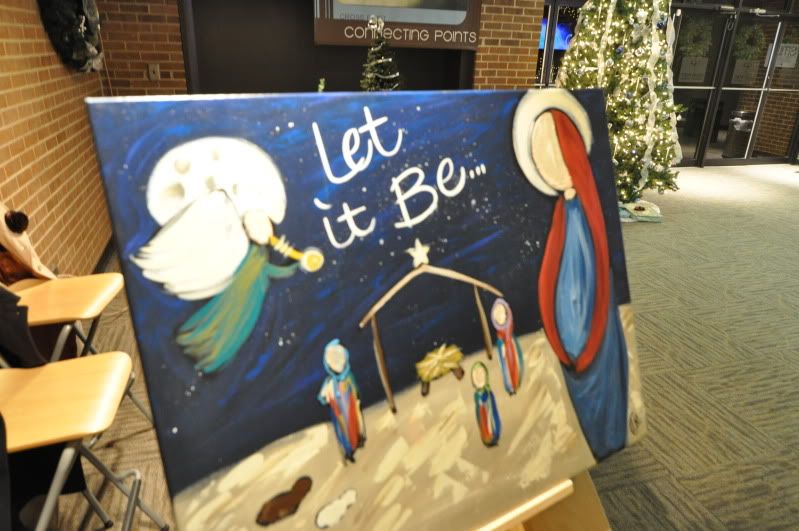 Part of the service they talked about how as much as we want to change circumstances/people/hard things that happen that are different than we plan/desire we sometimes need to just "let it be" and take from it what you can to learn and grow and be a better person...to see how God will use it in your life. And then the band played the song "let it be" by the Beatles. And a friend of ours painted this painting and it was out in the lobby...so I got a chance to snap a pic of it.
Judah was really liking the candles...
I snuck back in during the candle lighting and "Silent Night" singing. It was lovely as usual and felt like christmas. Judah was hollering to go back and get more candles out of the candle box so we left pretty quick so as to not ruin the moment for the masses. ha!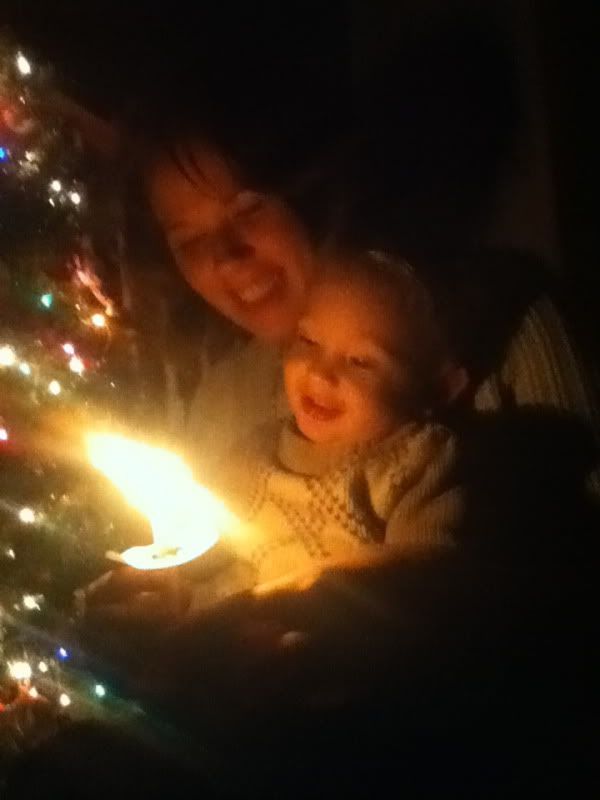 When we got home we reenacted the candle lighting so I could have my yearly photo.
Also part of the tradition now!
I love this picture because not only does it show our nativity set and sweet baby Jesus, but you can see the christmas tree glowing in the mirrors reflection.
When we got home from church Judah ran into the house and up to the christmas tree and said "Hi Santa!!!" over and over. It was so sweet. He doesn't even know Santa brings gifts yet, but he knows Santa looks happy and fun and he still talks about sitting on Santa's "wap" which is darling.
To me, this holiday is multi faceted and I love every aspect. From Santa to Jesus to Family to
Gifts to Giving. It is all woven together into an amazing celebration of hope and joy.