Feeding a toddler has turned out to be one of the more frustrating things I have dealt with as a mom...er...I mean as a human. honey child has a way of making me crazy by not eating and gagging on things he doesn't like and just generally being picky. Now, the things he will eat, he will eat endlessly...but the rest of it is a crapshoot.
Things Judah WILL eat:
Tortilla
Cheese Slice
PBJ sandwich
Cheerios, Cinnamon Toast Crunch
Grapes
Crackers-Ritz, Graham, Club
Corn
Oatmeal
Apple Sauce
pizza
watermelon
hot dogs/corn dogs
french fries
All stage 3 baby food in a jar...
Things Judah MIGHT eat:
Mac N Cheese
Black Beans
Meat Balls
Banana
Bacon
Hummus
Chips
Guacamole
grilled cheese
blue berries (but never the skins)
casadias with cheese or with beans
And pretty much everything else he flat out refuses. And trust me, I have offered him a variety of tastes, textures and types of food. ahhhhh! He just started drinking cow's milk for the first time last week. glory. (he still nurses like 3 or 4 times a day)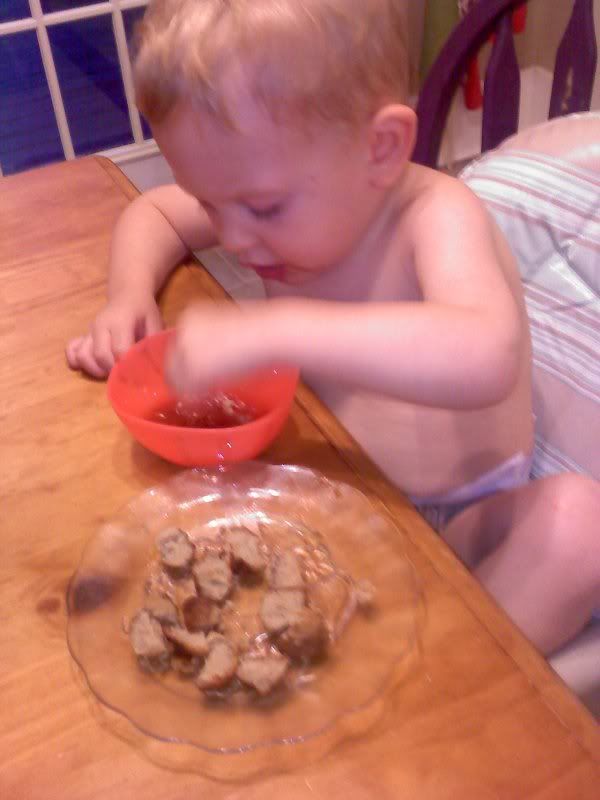 He shocked the heck out of me tonight when he ate meatballs...sheesh!
What do you feed your toddler? I need some serious ideas....help...
He is still in the 90+ percentile for all growth and his doc says he is fine...but...I'd like for him to eat more things...maybe I'm just dreaming...