Well Hello Blog friends/family/lurkers, it has been way to long.
So this will be a bullet point update sort of a post...quick and getting us all up to speed...hopefully you will comment and tell me how you are doing! Not only have I not been blogging, I haven't been on facebook or anything really that keeps me in the loop on people's lives.
I went to WI to visit my parents...wasn't sure what to expect since my dad had previously been on his death bed. But the first day I was there he was up playing Yahtzee...so I guess that is good. lol. He is holding on and you know he feels better when he gets grouchy so I guess until the next time he gets sick, this is his new normal.
I had planned to stay longer in WI but here's the thing...dun dun dun...I am pregnant. Yup. As of today I am 8 weeks and 4 days. I wish with all of my heart I could say that it is a breeze this time...however...that would just be a lie. I have thrown up several times a day for almost a week now. I feel awful and I am discouraged because I was SO hopeful it would be different this time. I guess I am just praying it only lasts the first trimester instead of the whole pregnancy like last time. I'll take that if that's all I am offered.
Judah turns two on Wednesday. I am just so happy to be his mommy. Although lately he likes to call me "jamie" so whatever. ha. he's very cute when he does it and he is insistent that that is who I am when we try to correct him. So we'll see how long this phase lasts.
Anyhow...we had a really super fun party today and I will post more pictures and stories from it later, but for now...here is a picture of little jbyrd with his cake: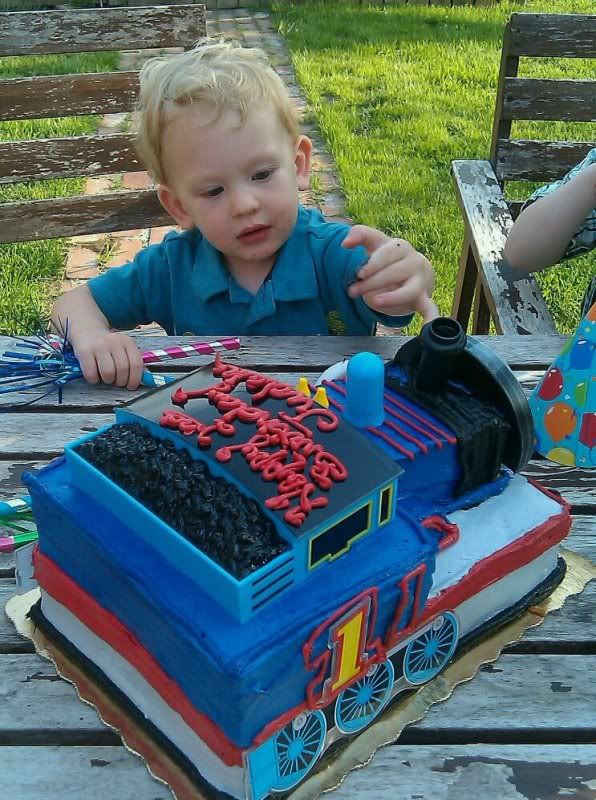 I wish I had pictures of all the adults with blue mouths afterwards. lol. that icing was potent.
I am excited to have another child...but to be honest, if I could skip the whole pregnancy thing I would. I totally would. It is just evil to me. Please please pray that it subsides. I would greatly appreciate it.
So that is the latest and greatest in my little life. I hope this finds you well!