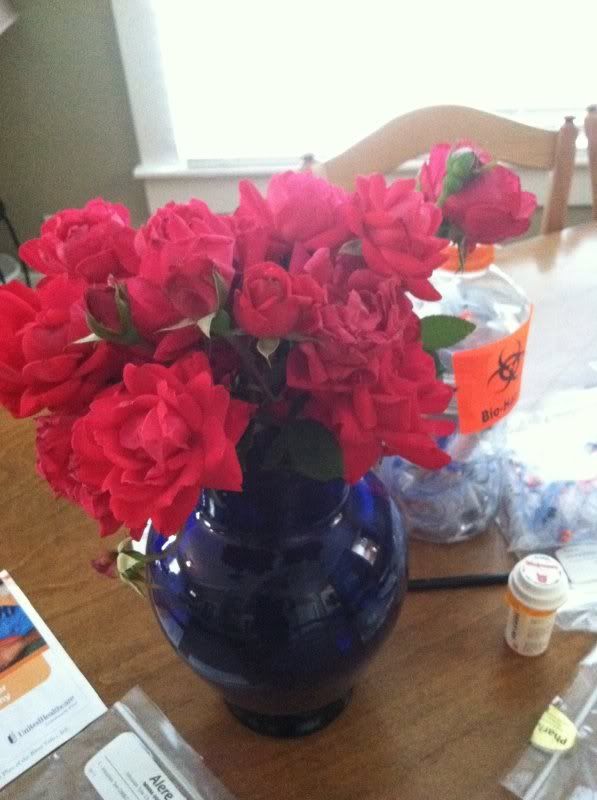 Lance and I celebrated our 3 yr wedding anniversary this past Sunday. I hadn't thrown up in like 3 days and was feeling okay, so we actually went to church, to lunch and then Lance and I went to a movie...the new Fast and Furious (love!). It was wonderful...I paid the piper the following few days because I totally over did it...but what a lovely day it was.
Lance brought me flowers from our rose trees in the front yard and they brightened up my biohazard medicine table quite nicely ;-) lol...it's the little things people...
So I mentioned before that my sister in law, Jessica, and her kids were coming to spend a month or so with me helping me out....my brother Mike brought them down which was nice because we got to spend some time with him too. I snapped this picture of the dads loving on their 2 yr old baby boys first thing in the morning. It was sweet. They are both great daddies.
Eliana, Mikey and Judah have been having a total blast together. They play in the water, do side walk chalk, share puppies, watch cartoons, eat delicious kid meals and generally just enjoy the heck out of one another.
I cannot tell you how happy it makes me to see Judah being loved on and included in Jessica's little family :) Judah calls her "mom" and "auntie" depending on the moment...which I think is sweet. She has been such a blessing to me while I am running on empty.
well, I need to sleep now...I have to get up in the middle of the night to change my zofran pump...I hope you are doing well...leave a comment if you stop by, I'd love to have you say hi...