This post is only about 2 months late...only.
So my husband had a birthday, which one is irrelevant ;) He is older and wiser and hotter all the time. That said, he is also the hardest person to shop for. He has what he wants, doesn't need much and has outright told me he doesn't like getting gifts. So yeah...not easy.
Lucky for me though, we had recently went to hunt down the new store opened by one of the guys from
American Pickers
, the show from the history channel about antiquing. We both enjoy the show and love antiques, so it was fun to see the store. It's called
Antique Archeology
and it has some pretty neat stuff in it...and gobs of memorabilia you can purchase for the show. My husband happens to love memorabilia, especially if it's a T-shirt. But when we were at the store we didn't actually buy anything. (score! I knew what I was getting him...)
We did take a couple pictures though...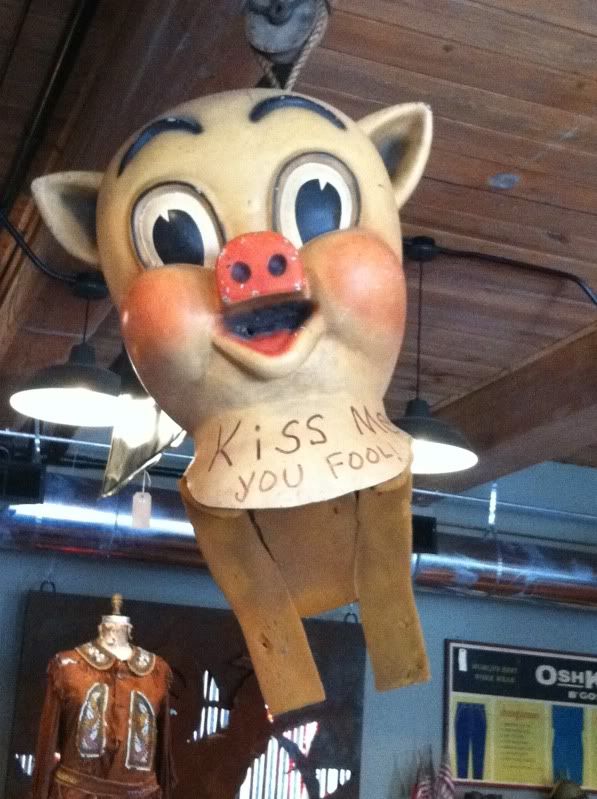 I actually remember the episode where they bought this one. ha. cute.
cool old bike Judah wanted to ride...um...no.
"you break it you buy it" is not a rule I enjoy when things are crazy expensive
and breakable and there's a toddler involved...
"straight up now tell me do you really want to love me forever...oh oh oh..."
sorry, having a Paula Abdul moment...
So a week later Judah and I went to the store to find a T-shirt for Lance...only...for some reason I couldn't find anywhere to park, and there were gobs of people with really big nice camera's getting out of their cars. I had no idea why...
Oh yes, that's right. One of the guys from the show was there signing autographs!
I knew, but had totally forgotten.
Getting Lance a T-shirt from Antique Archeology-good.
Getting Lance a T-shirt from Antique Archeology signed by "Mike"-priceless!
So we got in line with my little iphone camera and before long it was our turn...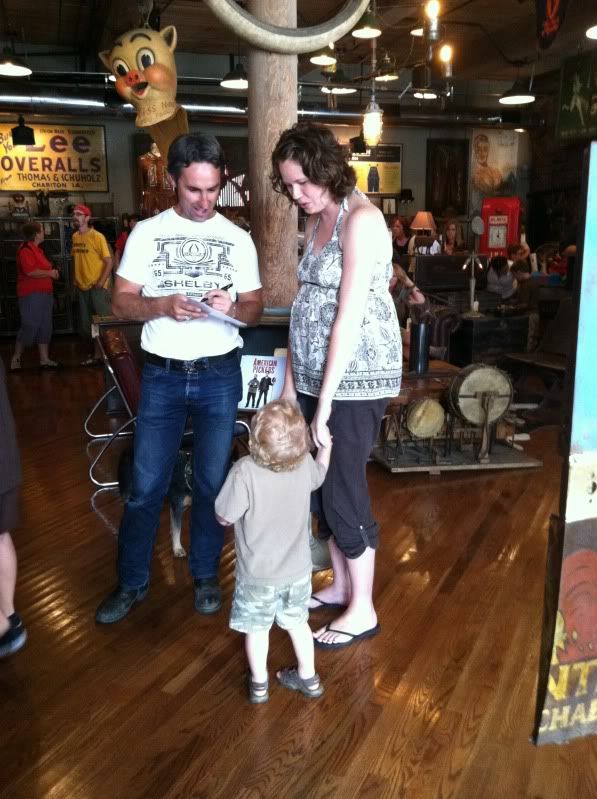 Judah liked talking to him, and he had his dog with so they instantly had something to chat about. I told him it was my husbands birthday and he graciously signed the T-shirt and a couple little posters for us.
He was a nice guy, just like in the show. You never know if that's going to be true or not so it was refreshing to find that he was as nice as he is portrayed.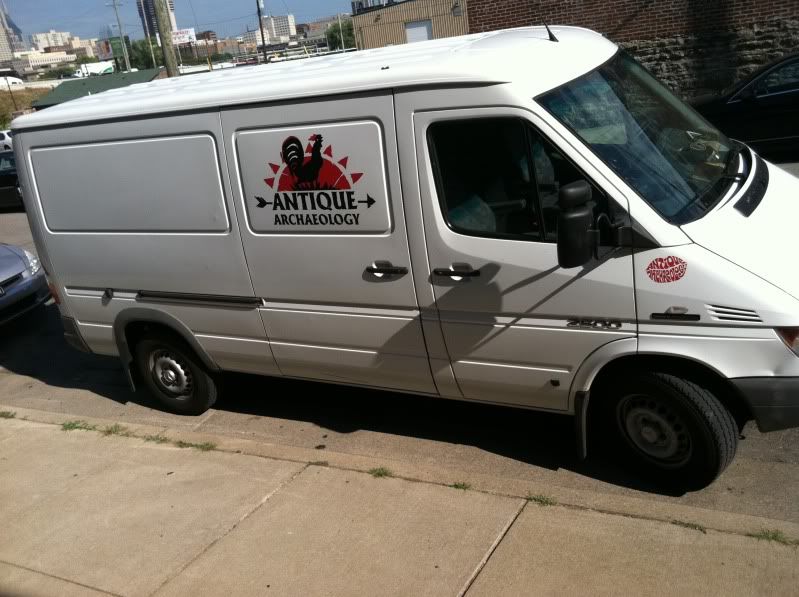 Had to snap a pic of the van parked out front :)
So a whole week later (not easy to keep a secret people when you are used to telling your hubby everything)...I hopped an airplane my honey was flying and we jetted off to Panama City beach...it was an overnight for my working husband, but one with enough spare time it was worth my coming along. (thanks to my sis for taking care of Judah!)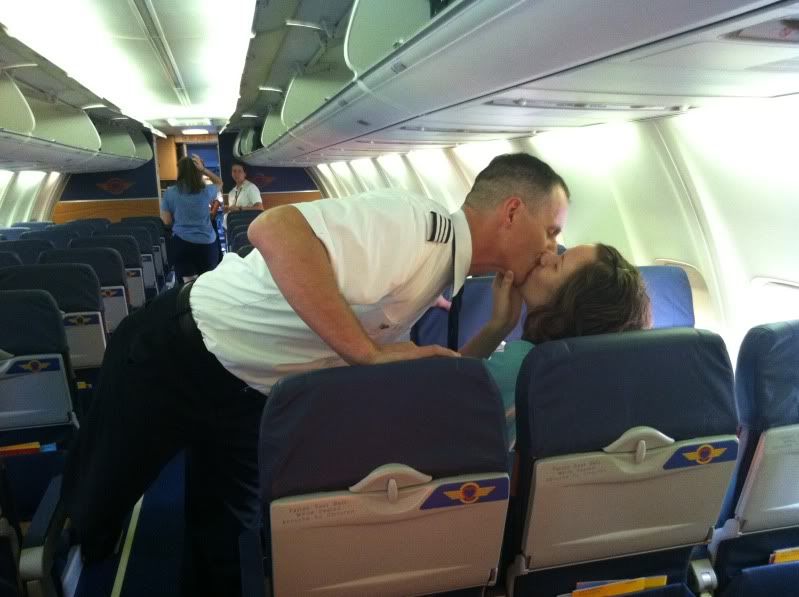 Gotta love a man in uniform ;)
The next morning after we enjoyed breakfast (and it was his actual birthday) I pulled out his gift...and it was a crowd pleaser...I think I did alright for this birthday. He was pretty happy with it...only he won't wear it cause it's autographed. LOL. Oh well, I tried. haha. It will be treasured for a while :)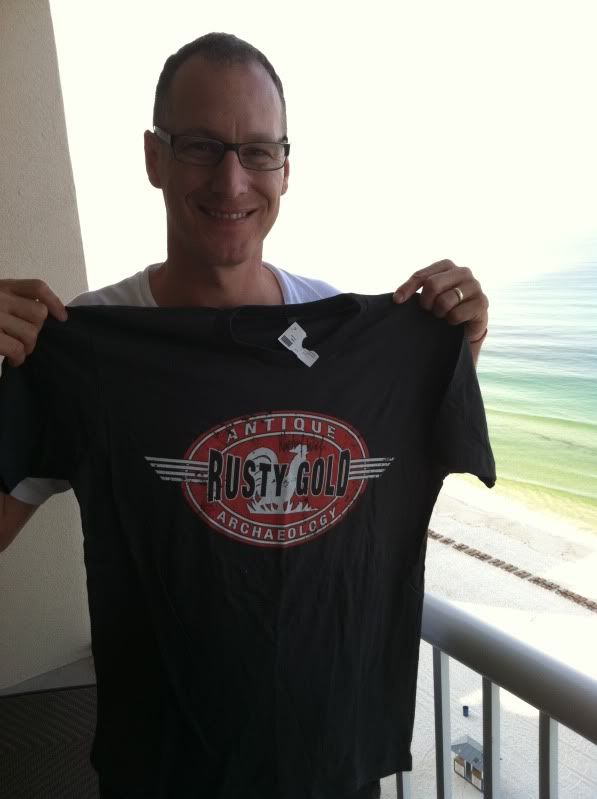 It was nice to actually get my husband something he liked and wanted and came with a memory.
Love you dear!