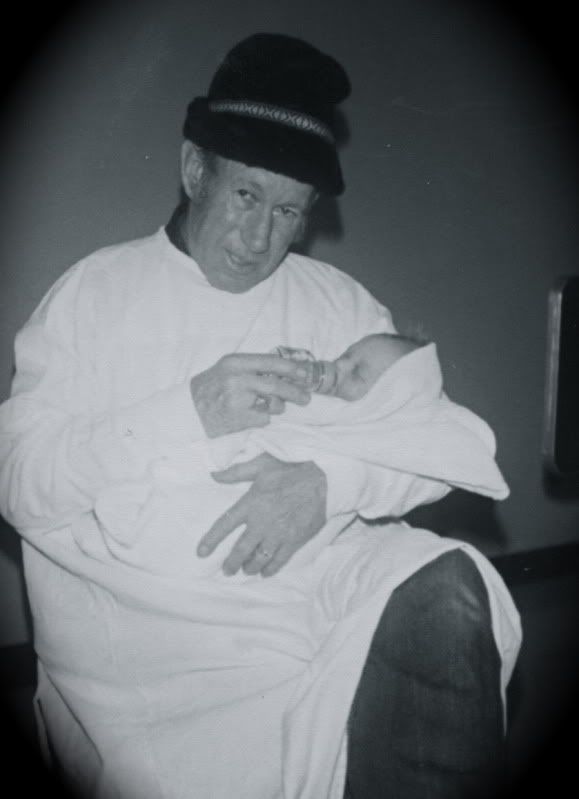 (my dad holding me when I was a bitty baby)
My dad worked in the oil field for years and years. One of my very earliest memories from when I was barely 2 yrs old, was sitting at the window in my house, watching my dad wave and drive away to go to work (for a few weeks at a time) and crying. Being so incredibly sad that he was leaving. I know as I got older I was more used to it, and we would sometimes even go with him to the oil rigs for a visit.
I have to say, when I found out my dad had passed away on Sunday night, I felt like that same little girl. Sitting at the window crying, watching my dad leave and knowing I couldn't go with him and how much I would miss him until I saw him again.
Yes I am happy he is no longer suffering.
Yes I know he is in heaven and no longer stuck in an earthly body that is working against him.
Yes he is no longer struggling with dementia.
Yes I am glad that the long good bye is over and he is in a better place.
But...
I will miss him.
So much.
And I am sad. I am more eager for heaven than ever before. Maybe I should be more eager for heaven just because of Jesus alone, but I love that I will also get to see my dad again and that it will be a sweet reunion.
For some reason this song just brought me a lot of comfort. Yes, it's Elvis...and it is a bit cheesy...but it's nice.
We are heading to WI tomorrow for a weekend of family time. I am glad to see my siblings and to hug on my mom during this time. As expected as it was, it's still strange that it is finally here. It was a long good bye and I am happy that I had as many chances as I did to spend time with him in the last few years. Saying good bye one last time will be bittersweet for sure.