I was a little tired the second day.
Judah and I shared the double bed in the front room of the cabin. The back room had two sets of bunk beds...so my sister had a bottom bunk, my mom had a bottom bunk and my husband got a top bunk. We had fans and noise machines going but I forgot my ear plugs (thank God for Walmart! we made a little trip to town later on). So sleeping didn't come easy as my mom makes quite the racket in her sleep :)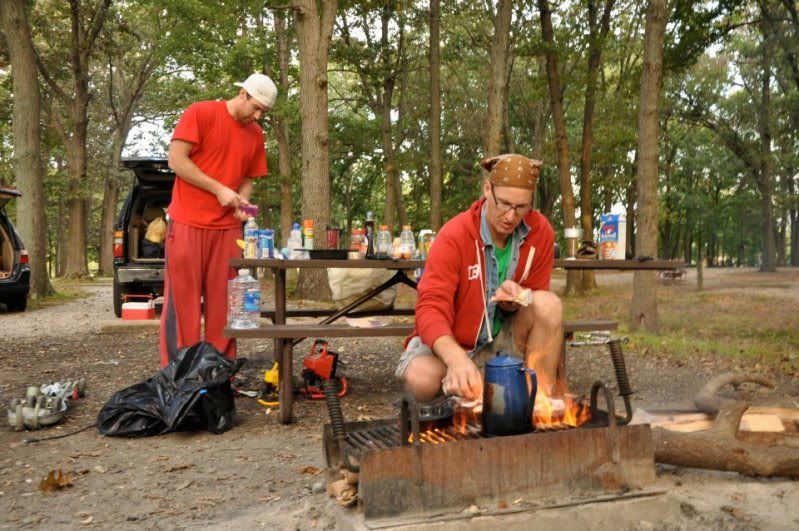 The boys did most of the work...husband Lance and brother Ira are outdoorsmen for sure. Lance did all the campfire cooking (thank heaven) and they worked together to keep the fire going and doing all the heavy lifting. We had pancakes and eggs and bacon...yum!
The cousins were excited for Auntie Jessi to be there...they had plans for her. Racing and walks and adventures...things only an auntie with energy can do :)
Hey look! It's me!
Ah the outhouse...we all used the men's one cause the ladies one was grossy gross. And this is why I brought my own potty for the nights! hello! can I get a witness?!
After breakfast, the dads took the kids off for walks and adventures while the ladies cleaned up and visited. Of course we eventually joined them, but not till we were nice and relaxed ;)
Beck was having a blast with this stick...mountain man in the making!
Judah is a jumper. He jumps over every crack, over every border, over anything that looks like it would make a good jumping obstacle. No surprise to find him jumping along next to his dad on a bench at the amphitheater. Go Judah Go!
This is a big ol' dog pile o' kids!
Yup, that's Lance and Sasha wading in the water!
Gramma Lynda had her camera out and ready to capture the moment!
Oh look! There's me and my big ol' belly. It goes everywhere with me, even camping.
I think Evie and Judah were having a serious nose to nose conversation right here...lol...the looks on their faces makes me wonder what they were conferring about...must have been interesting ;)
Oh I just wanna kiss their little faces off! How adorable are they?!
Here's Ira checking out Jessi's latest tattoos...she gets new ones all the time and it's hard to stay current ;) oh, and we had lunch....this was right after Jessi and I went to town and spent an hour at Walmart...I rode a motorized cart for the first time...that was fun :)
And what's a good nature camping trip with out some bugs?! Britt was really into this ugly caterpillar...yes, I said ugly. It had one of those weird hairy faces that's not really a face...looks like something out of a sci-fi movie. creepy! But the kids thought it was awesome. go figure.
We ended the night with a bonfire and s'mores.
We told stories and laughed the night away.
Ira started a story game where he'd tell a story and when it was time to add a detail he'd point at someone to fill in the blank...it was fun. But it got funner (yes, it's a word) when Beck decided to be the story leader. He was hilarious. And our story was hilarious too :)
Judah even got in on the story telling action.
His story went like this...
"once pon time (pause to jump over a stick) CARS!!! and jumping and big train...hahahahaha"
dramatic pause and then
"thas all"
lol
He was a hoot.
We had all taken advantage of being like the ONLY people at the camp ground and actually taken showers in the shower house, so we were all squeaky clean before the campfire and bed time. It was nice.
So a highlight of this trip for me was sleeping with Judah next to me :) Oh what a sweetie pie. Out of our cabin window we could see the moon and the lake...he thought that was pretty great. And then he'd snuggle up with his blanket and head to dream land...I didn't know what he'd be like seeing as how at home he's always slept on his own and done really well and never really slept with us successfully. But he snuggled right up and slept the night away. Little feet kicking me in the back in the night and seeing his little sleepy face every time I woke up (to pee or to shift around, etc). It was really sweet.
Our second day of camping was really good, it was a hot day and I personally couldn't do much walking/adventuring...but even so it was delightful.
Life is good!