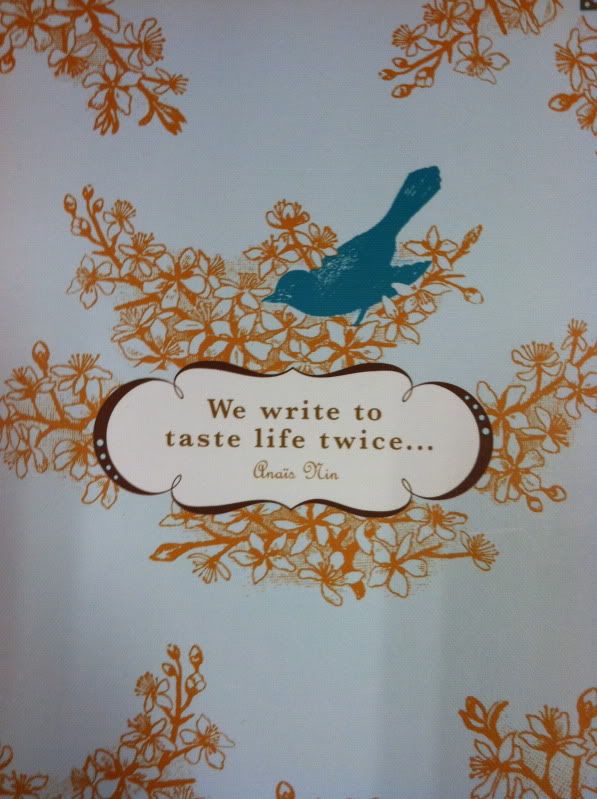 I was in Target trying to find my little wandering family (Lance had both boys alone with a Target cart while I made a return...danger will robinson) when I passed through the stationary aisle and ran across this darling notebook. Now I am super picky about notebooks...there are many many many notebook covers I fall in love with, but if the paper on the inside is lame then it doesn't matter. I don't like the big wide ruled lines and strange little markings in the corners. It's a quirk...I have a few.
Anyhow, I love this notebook but wasn't even tempted to buy it cause the paper was lame. So I pulled out my phone and snapped a pic instead.
I feel this quote. It is why I blog. It is why I don't blog about things that I don't want to relive...like a good fight with the hubs, or family drama, or the poopy diaper that ruined my day...sometimes I do write about the bad days because I survived them, and that IS worth remembering, and "tasting twice". There is so much good in life to remember and to live again through writing. Some of it is too good to capture in words and so I try to capture things in a picture.
Life in Nashrock is starting to fall into a groove, I am hoping to do a bit more blogging if I can master the art of getting two children to sleep at the same time...wish me luck!