So it was an interesting weather day.
Gorgeous blue skies, warm weather, breezy. Until it wasn't.
And suddenly I knew we needed to head for the cellar. I mean. If it was just me, or just me and one kid, I might not have. Because we could have moved pretty quick to take cover. But me with two kids? yeah. I knew I needed to go sooner than later...so we packed up a bag of essentials and grabbed the diaper bag and some blankets and headed for the cellar.
The cellar only has access from outside. By the time I gathered us all up, it had started raining quite hard. The door has to be lifted and then propped up with a piece of wood. You have to bend down to get to the stairs and then into the dirt cellar. I had put Lucas in the Ergo and was wearing him which turned out to be the very best idea I could have had. No idea how I would have done it otherwise. I probably wouldn't have been able to...not with out injury. So we got our money's worth out of that baby purchase all in the course of 40 minutes! And I was only sort of drenched...not completely. ha.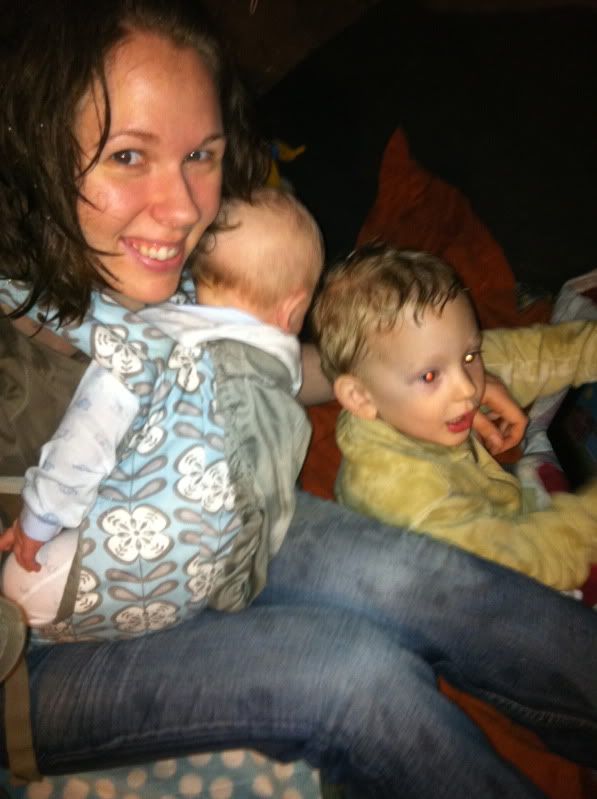 Lucas had just woken up from a nap...so he wasn't sure what was going on. But he was happy I was snuggling him. I got a little nervous though when his tummy started rumbling...I did not want to change a poopy diaper in the basement during a tornado. I was happy he held off for that...ha. Tornado or a blow out? which is worse? so not an easy answer ;)
Judah was having a blast. He kept saying "I wike this mergency mommy! it's fun!" Oh to be a kid again. Such blissful ignorance and innocence.
The iPad makes for great storm time passing entertainment.
So does the water table we had stashed away for the winter. Judah was having a blast.
After a half hour of loud storms and sirens and such, I was texting with my friend Christy who also lives in East Nashville and she said the worst had passed (she didn't have a basement...in fact, it's pretty rare to have one here). She was my light in the storm. Thankful!
I hauled just the kids out at first...after I was certain we weren't going to be heading back down, I went and retrieved our things. I am thinking a permanent stash of emergency supplies down there is going on the "to do" list.
I am glad we got through it, and I am sorry that it wreaked havoc on so many others. We continued watching the news coverage after we went back upstairs, it was crazy to see the storms carrying on so intensely.
The only effects we saw on our house was the grill had moved from one side of the patio to the other. We were kind of hoping it was smashed and ruined so we could get a better one...haha...but my husbands own handy work thwarted that plan...he recently made the bench that blocked it from falling and getting ruined. Guess we'll eek one more summer out of that rusty ol' thing.
So the reward for a storm like that is the sky afterwards...isn't it lovely?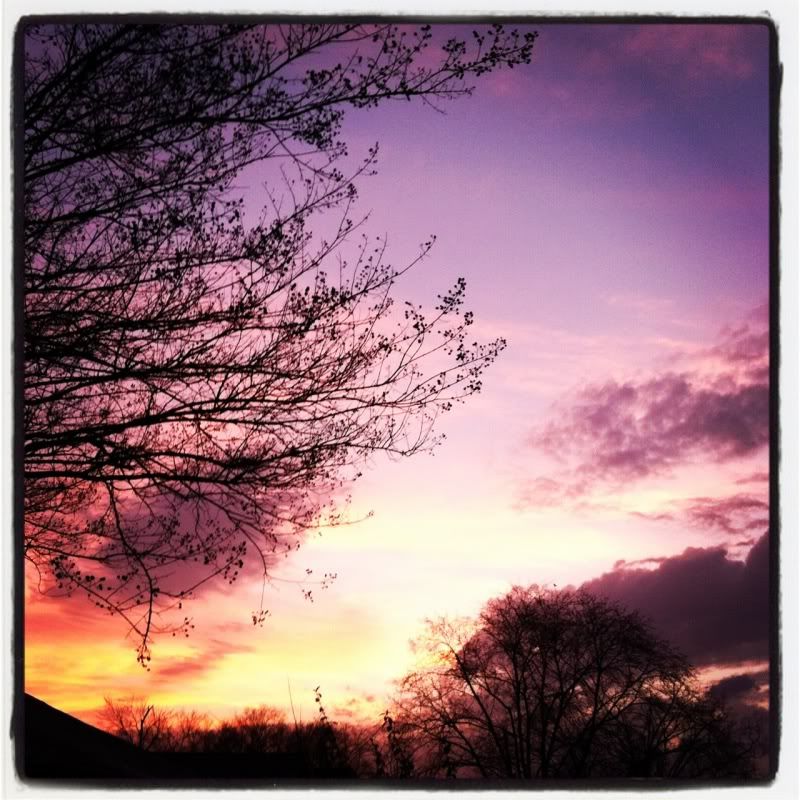 A few minutes ago every tree was excited, bowing to the roaring storm, waving, swirling, tossing their branches in glorious enthusiasm like worship. But though to the outer ear these trees are now silent, their songs never cease.