I was going to be helping throw a baby shower for a friend, I ended up needing to do it solo at the last sec as someone else's baby decided to come early...and thanks to
Pinterest
, I was able to pull it off with style!
With Pinterest at your fingertips and really, the whole world wide web...there are no excuses for throwing a boring party.
Veggie tray? I think not...now it's personalized veggie cocktail cups with a tomato and olive skewer garnish. Yup. Say that ten times fast.
I gotta say, the cocktail veggie cup resulted in almost everyone eating their veggies. An added bonus ;)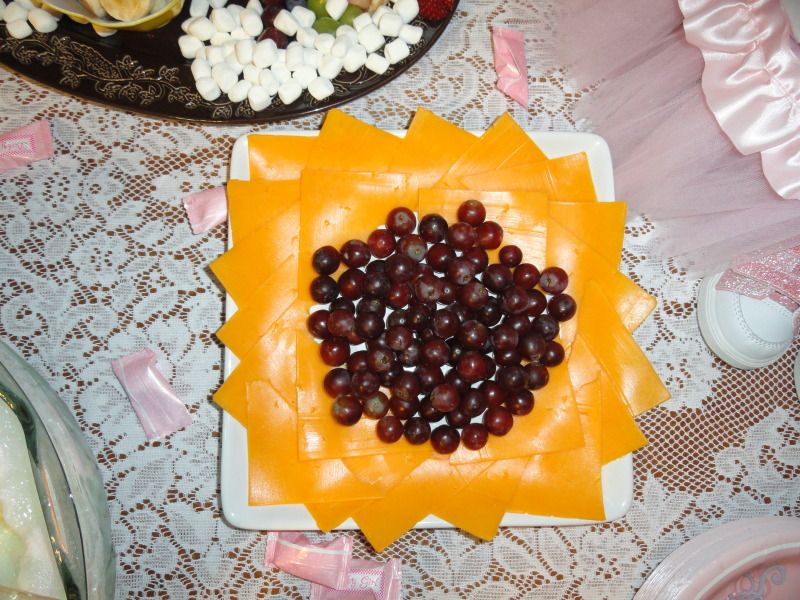 This was supposed to be a flower...I was a little rushed, so it isn't really that great compared to what I intended...but it tasted good, so there.
The baby shower was the day after St. Patty's, so of course I ran across a rainbow fruit plate idea. I have to say, the tiny white marshmallows with the fresh fruit, was the perfect little sweet twist to the yumminess. I had a ton of extra fruit even after making this, so I also just threw the rest together in a bowl for when this tray was eaten up.
Have you ever wanted to drink up your bubble bath? ha. well, I figured out how that was possible.
Ducky punch.
Not only was this punch adorable, but it tasted really delicious. Yum!
Here's another view:
(Have you figured out yet that my friend is having a girl baby? I've gotta say, I was having WAY to much fun with all the pink...ahh...jealousy).
I totally stole a diaper cake idea from a friend of mine back in MN (Jenny B shout out!)...and ran with it...what do you think? This was my gift to the mommy and baby...it was also a game. I tossed a blanket over the top and people had to list off everything they remembered seeing, of course whoever remembered the most items received a gift in typical baby shower fashion.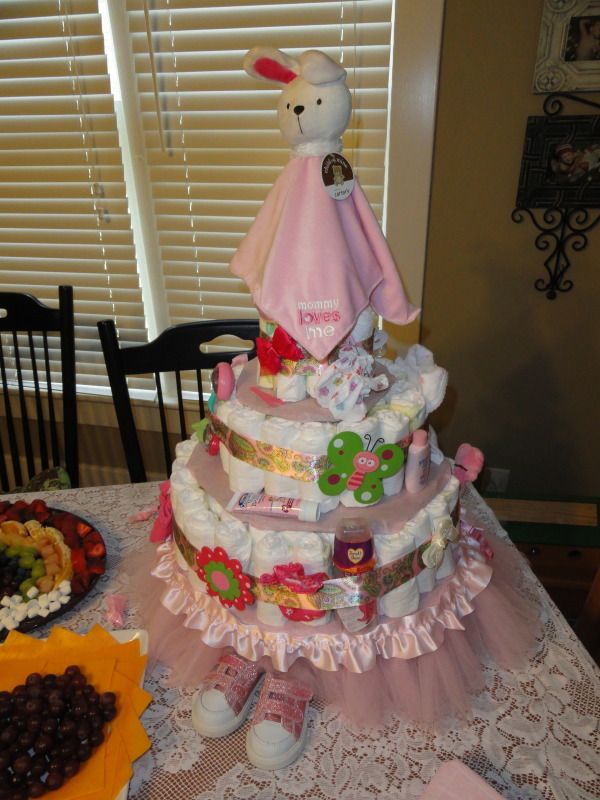 I had SO much fun making this cake. I know I've claimed to not be a DIY kind of gal, but I broke down and bought a hot glue gun so I could make the tu-tu. Yup. I'll post a
separate blog with an "inside" look
...I'd say it was a tutorial of how to make it, but I am no teacher.
Here's the whole spread.
As much fun as it was putting together all of the "pinterest" elements to this gathering, the ultimate goal was to make the mommy feel special, loved and prayed for. I hope it worked. I appreciate Katie's friendship and I am excited for her and her growing family.