We all know how crazy hot it's been pretty much everywhere recently. Well, with things being so hot and dried out, they banned fireworks here :(
Oh how I wish I could break rules and not be completely freaked out the entire time. Ha.
We ran our sprinkler, prepared a bucket of water and did a few fireworks in our backyard with the boys. I was seriously afraid the police were going to come and give us the smack down. But I couldn't imagine Lucas having his first 4th of July with no sparklers...and Judah needed a celebration too. So we took our chances ;) It was fun (minus the po-po anxiety).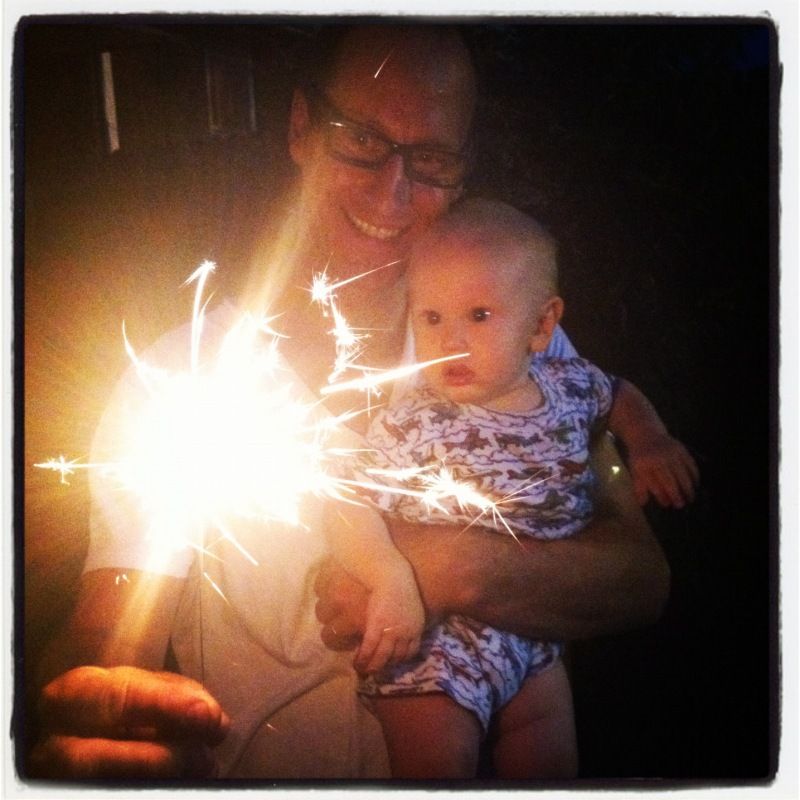 Love Lucas's shining eyes as he takes in the sights.
It would have totally been worth the 50$ fine if we'd been ticketed.
(although the "oldest child syndrome" in me would have been mortified)
Lance is off flying and will miss all of the local firework shows and I am not brave enough to take my two kids, alone, into crowds of people, after bed time, to watch super loud banging, booming pretty fireworks. Maybe if Judah didn't insist on plugging his ears for every noise, and maybe if Lucas didn't jump every time he heard a loud noise...I'd consider it...well, probably not...the first 4 reasons are enough to keep us home abiding by our bedtimes and baby schedules. I'll watch them on the evening news and that will be that.
So a few sparklers in the back yard was my consolation. And it was plenty for my boys.
I hope your 4th of July is full of fireworks and fun and family and food and all those other great things a nice holiday celebration brings.
God Bless America!