...it was an innocent moment, daddy scooping son up and tossing him in the air to encourage a smile, father and son separated for days enjoying each other in a rough and tumble way that only a daddy can do.
when all of a sudden.
tears. pain. and less than 2 seconds later mommy scoops in and hugs the crying son like only a mommy can do. more crying. failed attempts at ice packs. big sobs and heaving chests. deep breaths and big hugs. shuddering breath. assessing the damage. prayers to the one who heals. instant regret and guilt, accidents happen we tell ourselves, but our hearts don't understand.
trauma handled with all the grace that was possible in the moment.
back into daddy's arms, more tears and lots of hugs.
now who's in the mood for some turkey? sigh...yeah. that was a hard one. even the bystanders felt the pain.
the ceiling fan that is normally not on because it clinks and makes noise...on full power to help beat the heat of a thanksgiving day oven...we all despise that fan now...particularly the son, especially the daddy.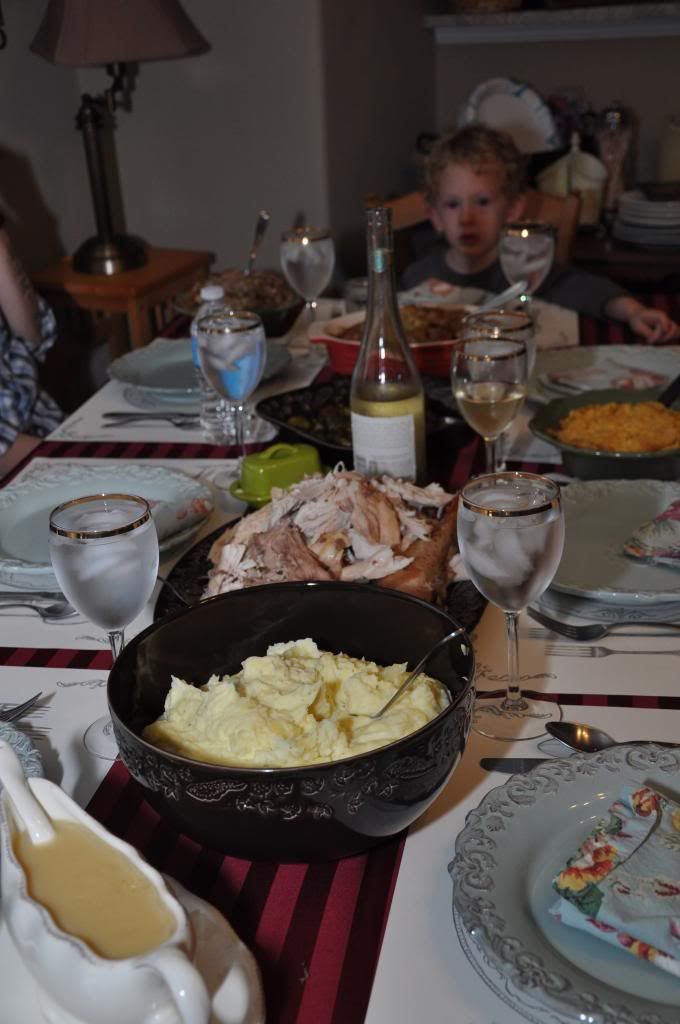 sweet jbyrd ate a LOT of turkey despite the tears.
I am thankful for health, and for bodies that heal.
I am thankful for daddies who scoop sons up for rowdy hugs.
I am thankful for grace to get through a hard moment with the people I love the most and hold the dearest to my heart.
I am thankful that Jesus is in the business of healing ears. (just like the guard in the garden of Gethsemane was probably really thankful)