you know how some people have babies that cry at night? and they just go crazy trying to get their babies to go to sleep so they will be rested and not cry? yeah. that is so NOT Lucas. He stays up, and avoids sleep...but he doesn't cry. He smiles. Huge, beaming, contagious, sweet smiles. I feel bad at the end of the day when I am exhausted and just want to sleep saying "Lucas! stop smiling and go to sleep already!!" ha...who says that?! but seriously, he's obsessed with smiling. so I guess I will just be grateful he's so happy and sleep when I'm dead ;) ha. He really is an easy kiddo.
So he's 14 weeks old (3 months and a week). And yesterday he rolled from back to front...and again several times today. It's his new "thing". It's sweet and he gets so happy and then frustrated at being on his belly. It's cute.
I also put him in the walker on the hard wood floor and he took off walking around. He only goes forward so if he gets stuck somewhere I have to help him, but it's awfully cute. Judah loves trying to get him to come to him...and usually ends up pushing him around, Lucas doesn't mind.
Lucas also babbles non stop. I have a feeling he's going to be a talker like Judah. I guess that's good, they can talk to each other and I can get a little peace and quiet. haha.
He's also been laughing for a while now...it's so sweet. He just cracks up when we clap his hands together, or sing funny songs to him, or bounce him up and down. It's precious.
Today, Judah declared that Lucas was his "best friend" and kept hugging him and telling him he was his best friend. It was adorable. I hope they are best friends thru life. They will always have each other either way, so I hope they like each other ;)
Lucas is also gnawing on his hands non-stop and drooling like crazy. I will let ya know when his first tooth pops through, it won't be long.
I can hardly believe how quick it's going. I am enjoying every second of this sweet baby boy's life. He is a joy.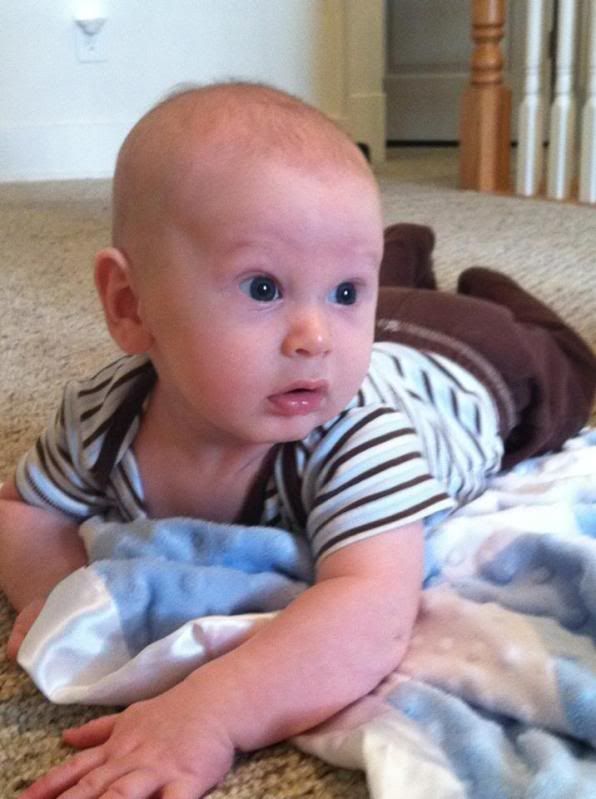 Here he is right after he rolled over by himself the first time. Love!