The first thing you do in making this diaper cake is you roll a bazillion (roughly 100) diapers. (tip: open the diaper up and then roll it)
That is the most time consuming aspect. Good music helps it go fast, or a girlfriend helping works too. Use tiny baby girl rubberbands to keep them rolled. It's like 3$ at Walmart for a few hundred of them.
I got like 5 or 6 yards of tulle and just hot glued it in bunches to the bottom of the cardboard base (covered in pink tissue paper). I then sat it on a cake stand for display. I hot glued the pink ribbon to make it pretty and to cover up the hot glued area visually.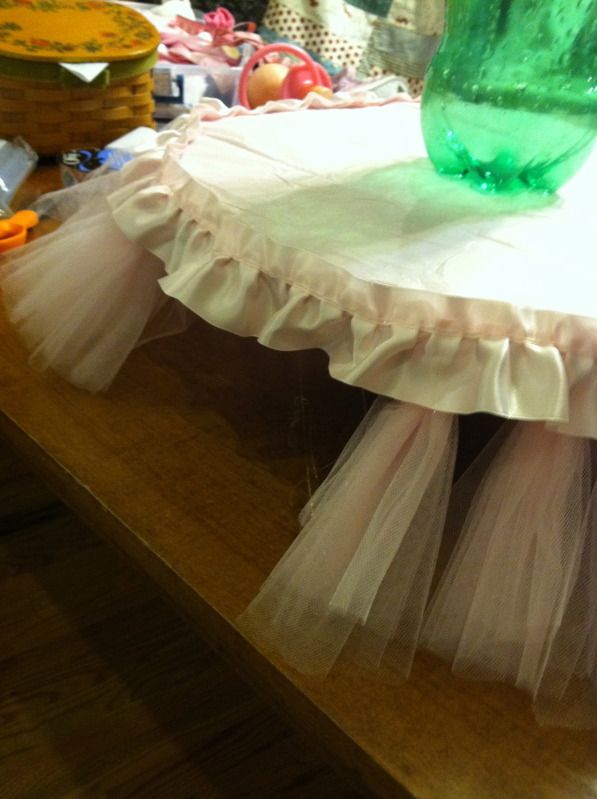 I also hot glued the 2-liter bottle to the base. I just eye balled the center...which wasn't really i the center and I had to compensate later with the diaper placement. ha. perfect is boring people.
After I sort of balanced the first round of diapers I anchored some string to one diaper that I held in place, then wrapped the string around the balanced diapers to secure them, then added more diapers as I kept wrapping the string around. It's hard to explain, and maybe you will figure out a better method. Good luck.
I added another "base" or tier to the cake and repeated the process (this piece you need to cut a hole in for the 2-liter to fit through). And eventually a third tier.
I forgot to take a picture, but in order to hold the "animal blanky/lovey" I added a 16oz water bottle to the top tier for it to rest on.
I covered the thread with a pretty ribbon I chose and liked.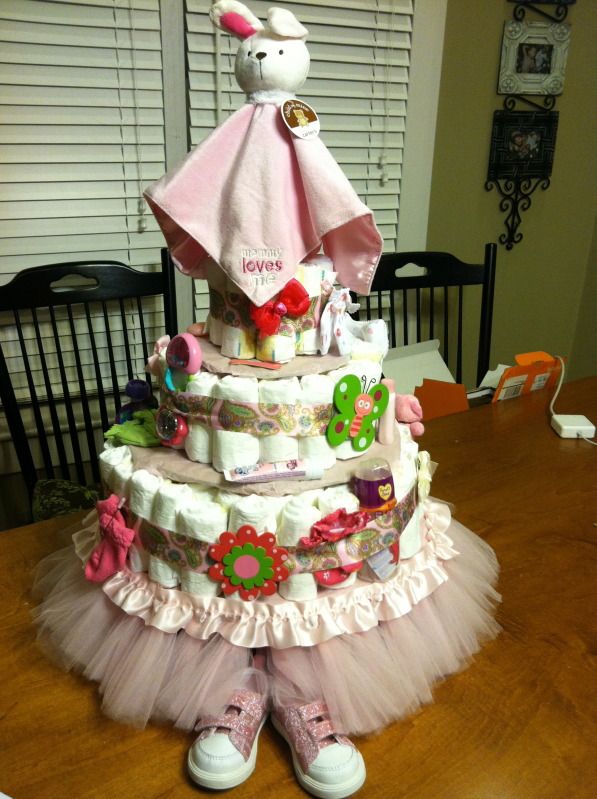 Then I added all the fun elements that made it into a gift and a game. You don't have to be so lavish with added items...it's still pretty impressive with just the ribbons, shoes, tu-tu and topper.
Anyhow, if you have any questions, just ask. I am not a DIY kinda girl and I'm not a teacher either, so this may be a little confusing.
Anyhow, it was fun. It was a hit at the shower and I'm glad I bought a hot glue gun ;)