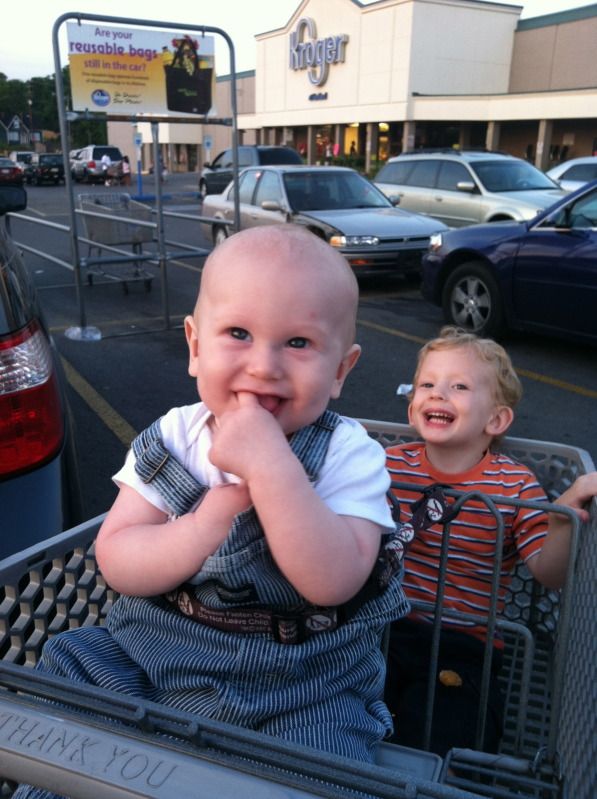 Lucas is getting so big. This was his first official ride in the front of a grocery cart. He still falls over and needs someone to help him stay steady, so I wouldn't say he's necessarily sitting up...but he's close.
He started sleeping in his crib (for naps) yesterday. And it's going so well! I think we're actually into a schedule too...it goes like this:
wake up around 6ish or 7ish.
take a nap around 9ish or 10ish.
sleep for a couple/three hours.
3hrs after he wakes up he goes back down, so around 3ish.
sleeps for a couple hours.
bedtime around 8ish.
wakes up around 1am or sometimes if I get lucky, 3 am.
back to sleep till 5ish and then dozes until the 6ish or 7ish time.
and repeat.
the only problem with this schedule is that I have a women's bible study I've been attending on Wednesday mornings...and it's not really working to go the last few weeks...honey child is a hot mess if I don't nap him.
the only other problem is that during his afternoon awake time, that is when Judah naps...which basically means we are housebound until like 5. But sometimes Judah can skip a nap and it's okay so it's not a hard fast rule.
looks like the best times to go to the Y are going to be evenings. That actually works for me. Just not on Monday's cause we have our small group. And once Judah starts school (mother's day out) I can go during that afternoon awake time that Lucas has.
This nap schedule will work really well for me dropping off and picking up Judah too. He starts a summer program in June/July T/TH from 9-1. And then in the fall it's 9-2 those same days. Although, who the heck knows what Lucas will be doing sleep wise at that point. Babies change!
If you read all that, you must be a gramma. haha. well, that's life at the Lockhart's right now so there ya have it.
I do so love my boys and their sweet smiles!