I'm thinking I might start doing a weekly blog update...post some of my favorite pictures from the week and talk about my kids...I feel like the time is just slipping through my fingers. I love them so much. And as important as it is to be present, I also think it is my job as their mom to record their history. Call me crazy, but I think history is so important. I love hearing about my own family history, as sordid and crazy as it can get...and I love when my mom (and when my dad was alive, my dad too) tells me about what I was like as a child...it makes me feel so much more connected and known and loved. She does a great job of this for sure, and I want that for my kids too...and right now, my blog is the best way to accomplish that.
So I guess I am just putting a proverbial stick in the ground saying I won't skip out on this important part of our family...not to mention how it keeps us connected to our far away family. Also hugely important.
I reserve the right to blog on inspiration and a whim as well, but I think a little discipline and structure never hurts in general ;)
So on that note: Our week in pictures:
Lucas loves chilling out on this fire truck, this was at the end of last week and we were waiting to go pick Judah up from PDO (parents day out). Lucas is truly a chill child. I love him. I had "girls night" with my small group ladies and a babysitter came over that night...Lucas apparently gave her a run for her money, normally chill....he was not having it. Cried so much, she called her mom to ask what to do...ended up stripping him down to his diaper, hanging out on the porch with him and he zonked out and slept great. She's a great sitter, and I'm so glad she called her mom and not me...I needed a girls night and honey child was all good in the end.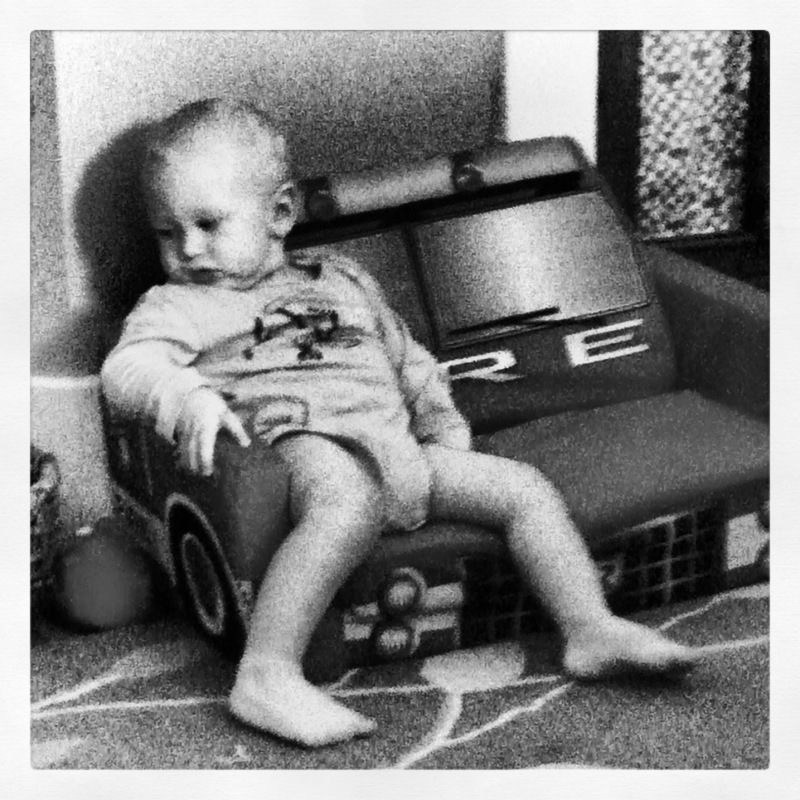 The next day we had the opportunity to host at the last minute the local Mom's Club monthly brunch...I was so glad I'd taken the time to clean my house up the day before...phew! It was awesome to see all the areas of my house that are kid friendly, loaded up with kids! This is the reason we keep our house and don't sell and down size...moments like these. It is great to see life and friendships built in the walls of our home...and in our yard and porch which are especially fun for the kidlets!
Lance has a great work opportunity which required a little photo shoot...isn't he handsome? love my pilot. no matter if the opportunity works out or not, he's the man!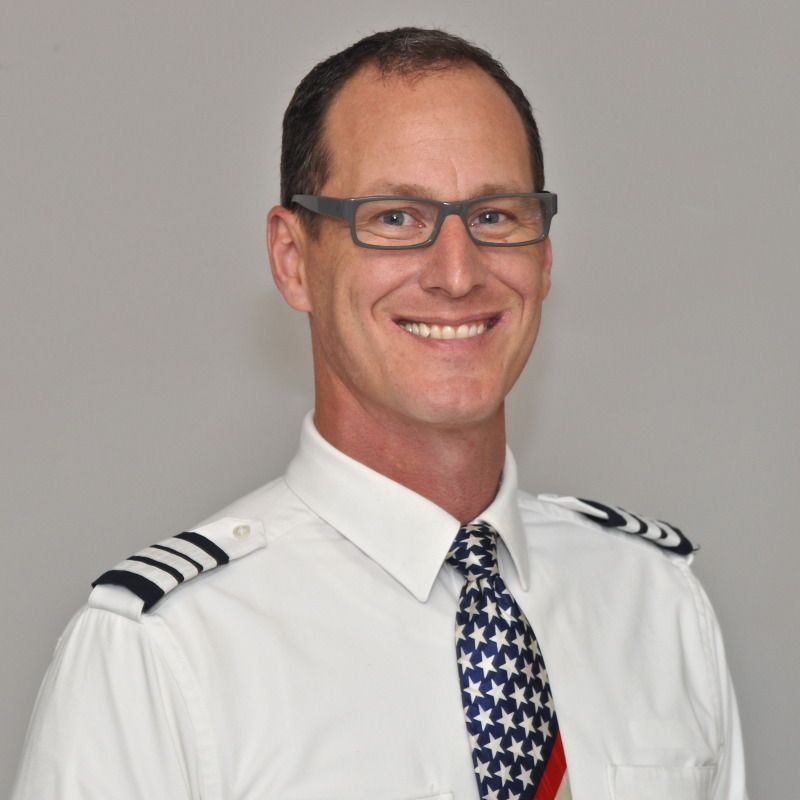 This wasn't exactly overly important...but I feel like venting. Wrapping a blender in shredded paper seems like a good idea so it won't break...but bubble wrap would have accomplished the same thing and I wouldn't have had to deal with the carnage of said paper being strewn about my home via my baby. oy.
I have introduced Judah to the Dust Buster...hoping that he somewhat gets over his fear of loud noises the more he uses it...and so far, his love of cleaning has overridden his fear of noise. Here he is cleaning up for small group, our Monday Night good time!
Tuesday morning I spent time running errands and getting things purchased for the Baby Dedication service our church is doing this weekend...I recently took over what they call "Great Expectations" and one of the job duties is helping with this event. It was fun. I spent a while in Party City waiting for the church to fax over the Tax Exempt form (I had the # but it wasn't enough for this place, every place is so different on what works with tax exempt stuff. weird.) So while I waited, I perused the halloween stuff...I love me some halloween.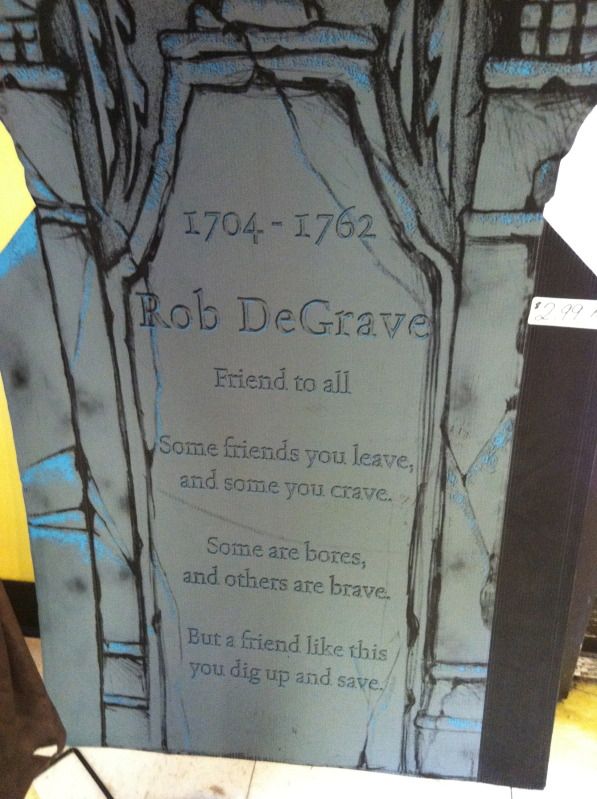 I had just gotten home and given Lucas a bath after his nap when a friend tweeted that they needed help. Lance didn't leave for work for a few more hours so I figured why not, I was available. Basically what we thought was going to be a quick doctor visit, turned into a few day stay at the hospital...I spent most of the day with Pearl Joy and her mom while all of the tests and things were run, I tried to stay out of the way but be helpful when needed. If you are not familiar with Pearl's story, I'd highly recommend you follow along as it is so cool to see the miracles that have already happened and to see God continue to work. Here is the
link to her blog
.
Lance ended up dropping our boys off with a friend in our neighborhood and leaving for work, so no good-bye kiss for me, but it was fine. It was a God-ordained day...and I love those kinds of days no matter how messy or inconvenient.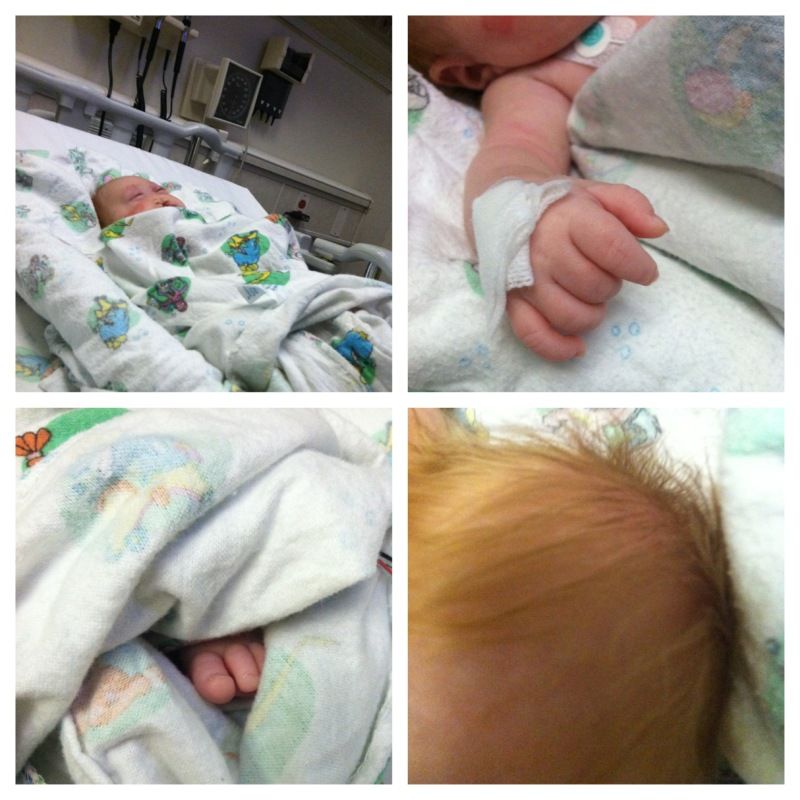 The rest of our week has gone pretty well. Judah is learning spanish at school, Lucas is having fun exploring the world. We all miss Lance when he's gone...but try to make the most of it and have fun in the meantime.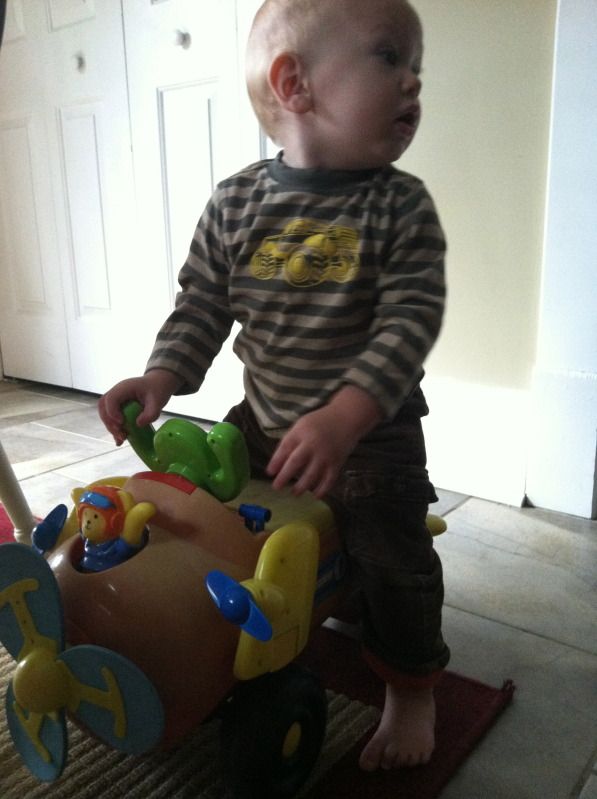 Friday was a really fun day, I let Judah play playdoh while Lucas napped, he's so creative and has such a fun time.
we ran some errands on friday including stopping by a local consignment shop that I have sold a few items at...I hadn't made much money, but they let me trade my small earnings for this fun toy the boys love playing with...it's a race track that spins...this picture looks like they are enjoying it together, when in actuality I think Judah was hugging Lucas so he wouldn't climb on top of the toy :) haha...at least he was being nice about it.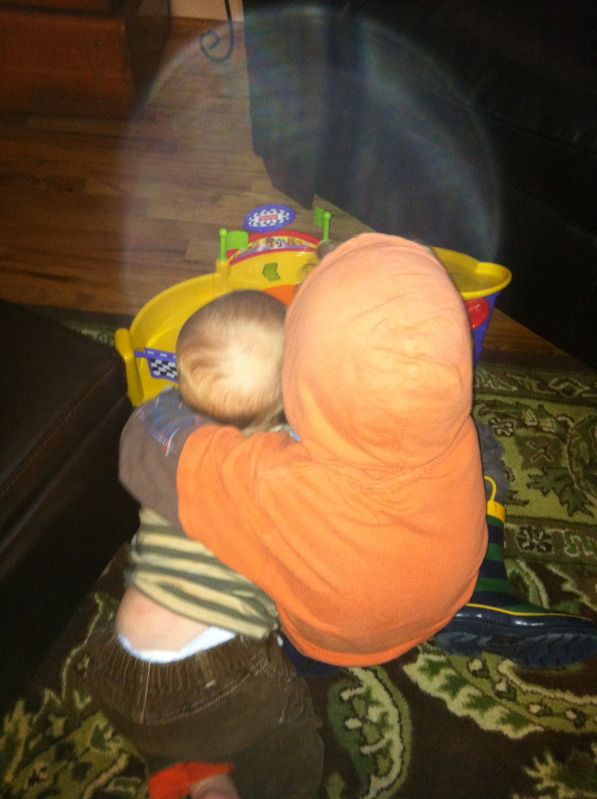 I blogged about the fun
chore chart
we made for Judah, I did this on friday night with my friend Nicole and her kids...we did as much as we could with kids around and finished the rest later...but this friend of mine also spends lots of time parenting alone due to her husbands job and we are really enjoying doing a meal together while our husbands are both gone working...something about the end of the day when our kids are not as happy because they are tired, everyone's hungry...we don't have any help on the horizon for bed time...and it's just a nice way to combine the work and share in the day.
So that brings us to today! We are laying low and taking it easy...last night before I went to sleep I jinxed myself...I thought "how many nights in a row has Lucas slept through the night now?" started counting and fell asleep...only to be awoken several times in the night...guess I counted my eggs before they were hatched. (yawn)
Once we got up and got our motors running, Judah has really enjoyed using his chore chart. So glad we did that project. Now for a new week to begin! Lance comes home today so that will be nice. Love that man.